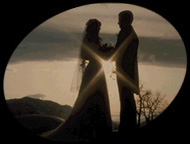 We realize how hard it can be to plan a wedding, it can be very stressful and confusing. We designed this section to help the consumer not only about Disc Jockeys but just about everything that goes into planning for a wedding. We have a variety of links, newsletters, planners, and articles to help make that special day the most memorable...
If you would like to see the wedding services that Forever DJs provides click the following link:
Newsletters:
The following link is to a Bridal Newsletter written by Teri Elwyn out of St. Louis, Missouri. This newsletter is generated monthly and provides some helpful tips, reminders, as well as some wedding traditions from around the world. Click on the address to take you there...
Links:
The following is a variety of links that will take you to all sorts of wedding pages. They will help you in a great deal in all aspects of your special day...
(Note: Right click on the links and click on Open Link In New Window so that you may keep the Forever DJs web page open and not have to find it again.)
The following link is to Pro DJ's Event planning section. This site is another site dedicated to helping the consumer in planning a wedding from ground zero.
Pro DJ.com Event Planning Site

This page is always being updated with links and helpful information. Remember to bookmark this site to keep up-to-date with all the information...